Info
Base Design
Poly with French Lace
Base Size

8"x10" (can cut into various sizes)

Base Material Color
Flesh
Colors Available
#1, #1A, #1B. Other color upon request. Please email us more information.
Hair Length
6"
Hair Density
Medium Light
Hair Type
Human hair
Curl & Wave
Slight wave - Freestye
Advantage

French Lace toupees are always our hot selling products, lace is a durable base for men's toupee and it also with good breathable. The size of lace toupee is big to cut away, really "one fit all". There are few differences between Swiss lace and French lace. French lace is a little harder than Swiss lace, and the hair density of French lace toupee is 100% while Swiss lace toupee is 90%

Soft, feather light, breathable, durable, bleach knots on top and front makes undetectable front hairline and top view, natural looking and beautiful appearance, transparent thin skin on sides and back make it easy to attach and clean.

Delivery
1-2 weeks working day. Excluding public holiday.
Notes

If you want us to cut base to your size, trim-cut hair length , styling or make any alteration to readymade stock system before shipment, it cannot be returned for a refund. Please read our policy under 'Payment" section.

Please cut the excess lace before you attach the hairpiece to your head. If you want to cut extra lace front, We charge RM15 each.
If this stock hairpiece doesn't meet your needs, you are welcome to customize it by CLICKING HERE
Hair color chart
The hair color pictures are only for reference. Please be aware there might be color differences due to different monitors or screens.
Hair Cut-in service
Cut in service and style RM 150. Need extra 4 working days.
In order to better help you Hairsetup can supply a hair cut-in service, as well as a styling service, before your hair piece is shipped to you. All we need you to do is to tell us what length of hair you need for the various areas, and our trained stylists will then trim your hair to the required length, or, if you have a picture of your favourite hair style we can cut it to match that. Here are some photos of the hairstyle.
If you prefer to visit personally at Hairsetup center for fitting –cutting while the hairsystem on your head , please schedule your appointment well in advance. We highly recommend customer's to visit our center to try ready made hair system before payment. Please read FAQ (Frequent Ask Questions)
If you require any additional information, please contact info@hairsetup.com or call 019 3118916
Hair system size measurement:
A: Front to back is the length of base size
B: Side to side is the width of base size ( about 1" back from temple position), which normally should be the widest position: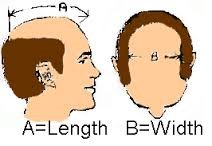 A= Length (inch/cm) B = Width (inch/cm)